Advisory Board
KoGa orients its basic and applied research activities towards the needs of industry and practice. Therefore, an Advisory Board was established to which are appointed representatives of science, industry, associations, relevant ministries and from international bodies. The tasks of the Advisory Board are mainly comprised of independent, advisory and guiding functions. The Advisory Board meets at least once within a year.
Dr. G.F. Backhaus
Dr. Backhaus studied Horticultural Sciences at Hanover University, obtained his PhD there at the Institute for Plant Pathology and Plant Protection under Prof. Dr. Fritz Schönbeck about the possibilities to use endotrophic mycorrhizal fungi in horticulture and continued with a research visit to the Department for Forest Mycology and -Pathology at the Swedish Agricultural University Uppsala. After further training at the Office for Plant Protection in Rhineland-Palatinum he led for several years the Department for Plant Protection in Horticulture at the Chamber of Agriculture Weser-Ems. In 1993 Dr. Backhaus moved to the Federal Biological Research Centre for Agriculture and Forestry (BBA), Braunschweig, where he was Director of the Institute for Plant Protection in Horticulture and in 2002 became Director General and Professor. Since the creation of the Julius Kühn Institute, Federal Research Centre for Cultivated Plants in 2008, Prof. Backhaus is its President. For nine years he was active in the Board of the German Phytomedical Society, of which he served three years as its President. He is also a member of the Bio-economy Council of the Federal Government and of several scientific Societies and Boards.
Dr. R.J. Bogers
Dr. Bogers studied chemistry and biology at Leiden University, The Netherlands and later worked there doing research on the molecular basis of the hormonal induction of dedifferentiation in plant tissues. After stations at the Unit of International Science Policy of the Ministry of Education and Science and as Director of the Bulb Research Centre at Lisse, he moved to the Research Stations for Floriculture and Glasshouse Vegetables, where he successfully merged the two stations at Aalsmeer and Naaldwijk and seven regional experimental gardens into one organisation. Six years later he became director of RIKILT, Institute for Food Safety Research in Wageningen. He ended his career as director of Frontis – Wageningen International Nucleus for Strategic Expertise. From 1983 on Dr. Bogers has been active in the International Society for Horticultural Science, from 2002 to 2010 as the European Board member and Treasurer.

Dr. I. Braune
Ms. K. Friske (Deputy Chair)
Vice Chancellor Friske trained in Business Administration. Since 2000 she is responsible for Infrastructure Development, Property and Safety at Bonn University and is the Permanent Representative of the Chancellor.
Dr. U. Gossen
Mr. M. Hannen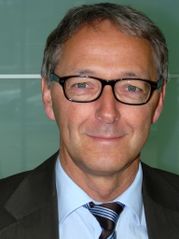 Dr. G. Hoos
Mr. M. Horper
Dr. A. Mager
Dr. W. Müller (Chair)
Dr. Müller grew up at a fruit farm near Lake Constance. After training in practical agriculture he studied agriculture at ETH Zürich and then at the School of Agriculture in Edinburgh. He was scientific staff at the Research Station for Horticulture and Viticulture in Wädenswil and obtained his PhD at ETH Zürich. Research periods in France and USA followed. He was Director of the Technical University Wädenswil and Director of the Research Station Wädenswil. Expert for international agricultural research.
Prof. G. Noga (Speaker of the General Assembly)
Prof. Dr. Georg Noga, Director of INRES-Gartenbauwissenschaft at the Faculty of Agriculture at Bonn University, studied nutrition science at Bonn University (1973-77), took his PhD at the Institute for Fruit and Vegetable Production (1978-1980) and habilitated at the Faculty of Agriculture of Bonn University (1990). From 1995-1998 he was Director at the Institute for Fruit Production at University of Hohenheim and at the same time Director of the Research Station for Fruit Production at Bavendorf/Lake Constance. In May 1998 he took the Chair for Fruit and Vegetable Production at Bonn University. He is co-founder of KoGa and, since the beginning, the Speaker of its General Assembly. His research focus is on plant and stress physiology, product quality and quality control and quality management systems in horticultural production chains.
Dr. S. Pacyna-Schürheck
Dr. Dr. h.c. C. Patermann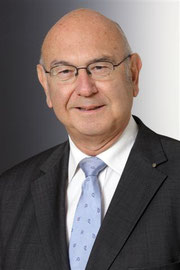 Dr. Patermann looks back at a long academic and diplomatic career. He worked for many years at the German Federal Ministry of Science and Education and was advisor in international organisations, such as ESA, ESO and EMBL. He was Director of Cabinet and spokesperson at the Federal Ministry for Research and Technology under Minister Heinz Riesenhuber, which was followed by several stations at the EU Directorate General for Research, amongst others as Director for Environment Research where he was responsible for the development and implementation of the 4th, 5th and 6th RTD in this area. Before his retirement, he was Programme Director for "Biotechnology, Agriculture & Food" research at DG Research. In addition, Dr. Patermann was Chair of the Standing Committee on Agricultural Research (SCAR) and Vice Chair in the important EC-US Task Force Life Sciences and Biotechnology Research. In 2009 he was appointed to the research and technology council on bioeconomy of the German Federal government which advises the cabinet of Chancellor Merkel. Dr. Patermann is also a jazz musician and was member of the Board of the Bundeskunsthalle in Bonn.
Herr F.-J. Schockemöhle
Prof. U. Schurr
Prof. Schurr is plant physiologist and heads an interdisciplinary institute (IBG: 2 Institute for Plant Sciences), in which plants are analyzed with non-invasive methods in their interaction with the environment and for which new technologies, sensors, algorithms and automation technology are developed. The institute is a global leader in phenotyping for plant breeding, develops quantitative methods for the analysis of structure and function of plants under controlled environment and field conditions and utilizes these methods with partners in horticulture, agriculture and plant breeding.

Prof. P. Stehle
Mr. J. Van Assche