Projects
Adaptation strategies to changing climate conditions
Ecological enhancement of irrigation ponds: increasing resource efficiency and resource security in fruit growing
Water is one of the central resources in fruit growing. Not only is it needed for the irrigation of crops, but increasingly due to the consequences of climate change, for frost protection irrigation in spring when late frosts endanger earlier flowering and as protection against sunburn of the developing fruits during midsummer heat waves.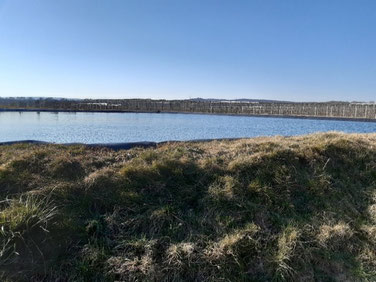 Completed projects
Optimization of cauliflower cultivation by monitoring with UAVs and machine-learning (OPTIKO)
The project OPTIKO will use unmanned aerial vehicles (UAVs) to monitor growth and plant performance using the example of cauliflower.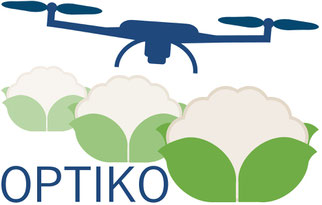 Potentials and practice programme to increase natural diversity in fruit plantations and mixed orchards
... is a collaboration of six important fruit producing regions in Germany. The goal of the project is to implement modern management strategies to increase biodiversity in organic and conventional fruit production systems in selected practice farms and to evaluate and continuously adapt these strategies.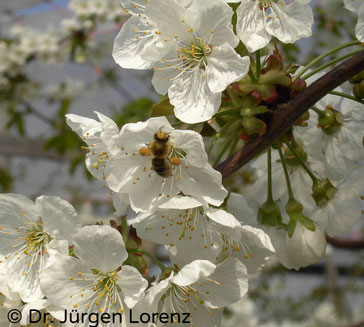 Innovations for NRW to improve resource use efficiency and environmental sustainability in horticulture
This project, which is funded by Stiftung Zukunft NRW for three years, seeks to evaluate optimized and resource-efficient plant protection for horticultural crops by using participative decision support approaches. We do this in our project using heather (Calluna vulgaris) as a model plant and research subject due to its high economic relevance in NRW, where it is cultivated on about 400 ha.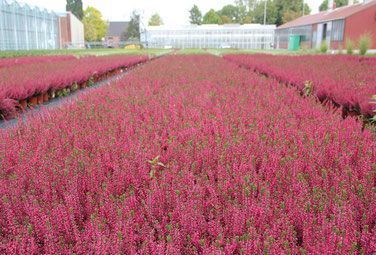 A novel and integrated approach to increase multiple and combined stress tolerance in plants using tomato as a model (TOMRES)
Tomato is a main EU agricultural commodity, cultivated all over Europe in open and protected field and in glasshouses, representing a biological and agronomical model crop.
Chilling requirements in fruit trees
A cooperation of the University Bonn (INRES Horticultural Science and Centre for Development Research (ZEF)), the DLR and partners from the World Agroforestry Centre (ICRAF), Nairobi, Kenya, investigates the plant physiological basics of chilling requirements of fruit trees.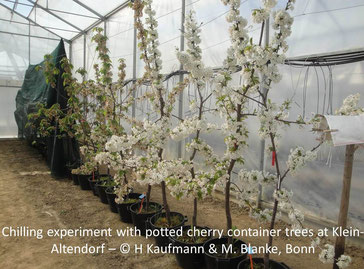 Weed control with hot oils from renewable resources
The use of agrochemicals in agricultural production systems is increasingly met with scepticism by society. Requests are voiced to stop the use of certain herbicides through legal steps.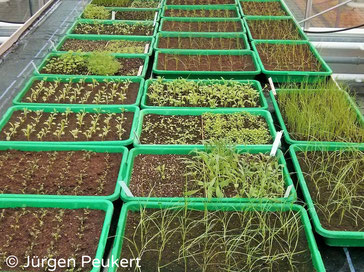 Optimization of baby leaf salad production through the use of precision detection and application of pesticides
In North-Rhine Westphalia, salad production is, with 2.000 ha, an important element of vegetable production and reginal marketing. In the past, several aphid-tolerant varieties were available but there are increasing indications of a gradual loss of this tolerance which leads to increased use of insecticides.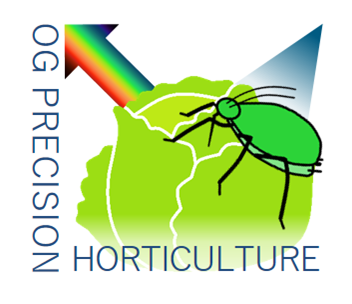 NutriHAF Africa
... is a cooperative project in which KoGa works together with the Centre for Development Research (ZEF), GlobalHort and 11 further partners in Germany in Africa.  The research and training project investigates and integrates suitable fruit and vegetable varieties into multistorey cropping systems.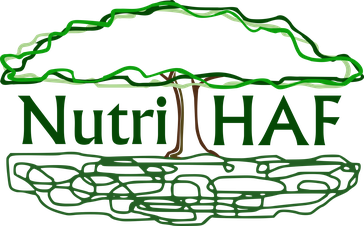 Pesticide residues in market-ready pot plants
The production area for ornamental plants in North-Rhine Westphalia is amongst the largest in the Federal Republic of Germany. In the marketing of ornamentals through whole sale structures, the retail sector increasingly demands residue-reduced pot plants.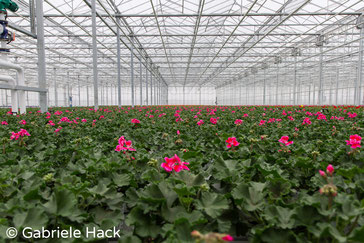 Development of Peat Substitutes Based on Renewable resources
Goal of the project is to produce plant substrates as ecologically/economically as possible and thereby strengthen the sustainable production and new market pathways for renewable resources.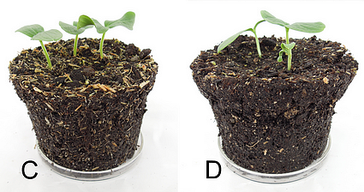 Development of peat substitutes for commercial horticulture on the basis of local and renewable resources
Goal of the project is to develop a regional concept for extensive land use for the production of substrates from appropriate renewable resources.