Optimization of Resource Use and Systems to Protect the Environment
Optimization of cauliflower cultivation by monitoring with UAVs and machine-learning (OPTIKO)
The project OPTIKO will use unmanned aerial vehicles (UAVs) to monitor growth and plant performance using the example of cauliflower. By combining multispectral images taken by UAV-based low cost multispectral cameras with machine learning methods for data analysis, we will develop an innovative process to assess traits of individual plants.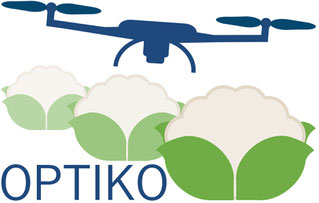 Machine learning methods will be trained to detect heterogeneities within a field based on spectral and spatial information, which indicate reduced plant performance due to abiotic and biotic stress. In the future, automatized, regular UAV overflights could be used for the early detection of stress symptoms and precise application of management procedures, such as fertilization or the application of pesticides. In addition, multispectral data will be used to predict the date of harvest, which will allow for improved management of sales and thus stabilize sales benefits. By developing this novel process, which will be transferable to further crops in the future, OPTIKO contributes to the digitalization of agriculture and complements already established operational processes and existing agro-technology.
Homepage: https://optimierungdeskohlanbaus.wordpress.com/

Members of the Operational Group:
University of Bonn (Lead partner KoGa and Institute for Geodesy and Geoinformation)
Schwarz Vegetable and Strawberry Production, Bornheim
Research Centre Jülich (IBG-II)
JB Hyperspectral Devices
Duration: 1 January 2020 – 31 December 2022

Funding: NRW Rural development 2014-2020 (https://ec.europa.eu/agriculture/rural-development-2014-2020_en)

Contact: Dr. Hannah Jaenicke (h.jaenicke(at)uni-bonn.de)

Innovations for NRW to improve resource use efficiency and environmental sustainability in horticulture

This project, which is funded by Stiftung Zukunft NRW for three years, seeks to evaluate optimized and resource-efficient plant protection for horticultural crops by using participative decision support approaches. We do this in our project using heather (Calluna vulgaris) as a model plant and research subject due to its high economic relevance in NRW, where it is cultivated on about 400 ha. For heather producers, humid and warm weather conditions are specific risk factors, because they increase the prevalence risk of fungal infections, especially with Glomerella cingulata. Therefore, to prevent any risk of infection, specific plant protection management is needed as early as possible, also by using preventative pesticide applications, during the field production phase from May till August.

In this context, the project investigates and applies innovative approaches to contribute to a more sustainable and environmental friendly horticulture. Due to the high amount of possible interventions in the management of fungal infections in heather production systems, it is difficult to predict which option presents the most effective strategy. To determine the most effective management strategy which decreases fungal infection risks, methods are needed to compare and assess all intervention possibilities. In an ideal case, this should be realized without expensive long-term experiments, but also sufficiently cover the complex interactions between horticultural production and environment.  

A specific project result will be a decision support tool for practitioners to carry out plant protection in ornamental plant production in a more efficient, integrated and resource saving manner.

Beyond this, this study has a pilot character, due to its implementation of new research approaches in horticulture, which can be applied for almost all horticultural crops. Furthermore, it makes a decisive contribution to solving special challenges faced by practical research and development due to the enormous diversity of horticultural production.  
Partners:
University of Bonn, INRES Horticultural Sciences (Prof. Dr. Eike Lüdeling)
Research Center Jülich, IBG-II (Prof. Dr. Uwe Rascher)
LWK-NRW, Experiment Station for Horticulture Straelen (Peter Tiede-Arlt)
Duration: 4/2018 – 3/2021

Funding: Stiftung Zukunft NRW

Contact: Dr. Hannah Jaenicke (h.jaenicke(at)ko-ga.eu), Marius Rütt (ruett(at)uni-bonn.de)
Optimization of baby leaf salad production through the use of precision detection and application of pesticides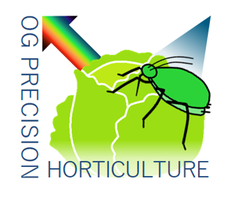 In North-Rhine Westphalia, salad production is, with 2.000 ha, an important element of vegetable production and reginal marketing. In the past, several aphid-tolerant varieties were available but there are increasing indications of a gradual loss of this tolerance which leads to increased use of insecticides. This is expensive and contrary to environmentally conscious vegetable production. It is also difficult, because of the short rotation of baby leaf salads, to adhere to legal requirements and secondary standards regarding pesticide residues.
Our innovative approach aims to selectively identify plants affected by aphids through the use of optical methods. The affected plants will then be spot-treated using an appropriate spray technology/application. Thus the amount of pesticides used will be reduced (=reduction of costs and increase in market competition) and a reduction of residues in plant and soil will be reached (=resource, environment and consumer protection).
The dissemination of project results will take place at three levels: into the horticultural practice with the innovative method, at level of agricultural engineering by commercialising the equipment and scientifically through new knowledge in the phenotyping of stressors.
More you can find on our YouTube channel:
https://www.youtube.com/channel/UCF4so5HuHvmGVUZg7aDstxQ?view_as=subscriber

Members of the Operational Group:
University of Bonn (Lead partner KoGa and Institute for Agricultural Engineering)
Landgard GmbH & Co KG
Schwarz Vegetable and Strawberry Production, Bornheim
Research Centre Jülich (IBG-II)
Duration: 1 April 2017 – 31 March 2020

Funding: NRW Rural development 2014-2020 (https://ec.europa.eu/agriculture/rural-development-2014-2020_en)

Contact: Dr. Hannah Jaenicke (h.jaenicke(at)uni-bonn.de)

Pesticide residues in market-ready pot plants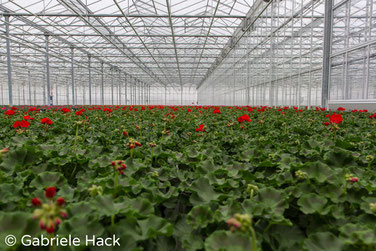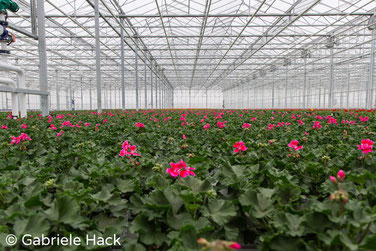 The production area for ornamental plants in North-Rhine Westphalia is amongst the largest in the Federal Republic of Germany. In the marketing of ornamentals through whole sale structures, the retail sector increasingly demands residue-reduced pot plants. The standards of the retail sector are often beyond those of legal and registration requirements and exclude specific chemicals (neonicotines, glyphosates) and demand a limited number of compounds in the residues.
In general, there is sufficient knowledge available in the fruit and vegetable sector about metabolisation rates and necessary waiting periods, this knowledge is not available for ornamental pot plants. Ornamental plant producers currently have no measures or recommendations for an appropriate plant protection strategy at hand. In order to develop recommendations for compliant plant protection measures a series of analyses with potted plants from production companies is being carried out.

Responsible:
Duration: 2016-2017

Funding: Landgard Foundation

Contact: Ms Gabriele Hack (Gabriele.hack(at)lwk.nrw.de)
Potentials and practice programme to increase natural diversity in fruit plantations and mixed orchards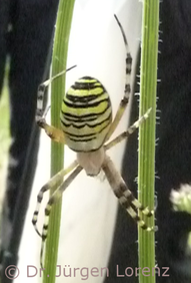 "Potentials and practice programme to increase natural diversity in fruit plantations and mixed orchards" is a collaboration of six important fruit producing regions in Germany. The goal of the project is to implement modern management strategies to increase biodiversity in organic and conventional fruit production systems in selected practice farms and to evaluate and continuously adapt these strategies. Successful and applicable tools shall be implemented in practice and find entry in recommendations for both organic and conventional production. Recognition for the value of the ecosystem "fruit orchard" shall be increased. Lead partner of the project is University of Hohenheim.
Focus of the part of the project which is implemented in the Rhineland and in Rhineland Palatinate by University of Bonn together with DLR Rheinpfalzis in the development of information for the optimization of ecosystem services in "integrated" production systems and implementation of specific measures. The following activities are planned:
Optimization and implementation of cultural measures to increase nutrition for predators and pollinators, to increase the diversity and fauna and to support regionally important species.
Evaluate the potential of the ecosystem "fruit orchard" under "conventional integrated" (IP) management as food habitat to support ecologically important species.
Evaluation of the changed management options with respect to orchard hygiene.
Collaboration in the development of a national list of recommendations for IP management and development of a regional list for the Rhineland fruit area.

Responsible for the region Rhineland Palatinate/North-Rhine Westphalia:
Partners:
University of Hohenheim (Lead of nation-wide programme)
Stiftung Kompetenzzentrum Bodensee
Obstbauversuchsring des Alten Landes e.V.
Öko-Obstbau Norddeutschland Versuchs- und Beratungsring e.V.
Landesverband "Sächsisches Obst" e.V.
Duration: 2016 – 2022

Funding: Federal Office for Nature Protection with finances of the Federal Ministry for Environment

Contact: Kim Larissa Preuß (kim.preuss(at)uni-bonn.de)
Development of Peat Substitutes Based on Renewable resources

Goal of the project is to produce plant substrates as ecologically/economically as possible and thereby strengthen the sustainable production and new market pathways for renewable resources. The use of low-input biomass plants as peat substitutes in pant substrates can be an alternative to common additives. In addition it offers the possibility to substitute higher amounts of peat in plant substrates as so far possible. For the expansive experimentation the new greenhouse facilities in Campus Klein Altendorf are used and for practice tests the greenhouse of Gramoflor Company in Vechta.

Responsible: University of Bonn INRES Renewable Resources
Partner: Gramoflor GmbH & Co. KG
Duration: 2015 – 2017

Funding: FNR e.V.

Contact: Prof. Dr. Ralf Pude (r.pude(at)uni-bonn.de)
Development of peat substitutes for commercial horticulture on the basis of local and renewable resources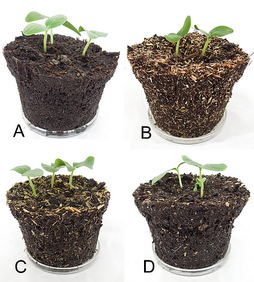 Goal of the project is to develop a regional concept for extensive land use for the production of substrates from appropriate renewable resources. Here existing experiences about the biomass plants Miscanthus, Silphie, poplar, willow and Paulownia on mineral soils will be intensified and early experiments on Sida, Helianthus annuus and soft wood trees (beech, asp) will be carried out. For organic soils the possible test plants will be reed species such as Phragmites australis ssp. altissimus and Phragmites australis ssp. australis and several Carex species.

Responsible: University of Bonn INRES Renewable Resources

Partner: Gramoflor GmbH & Co. KG

Duration: 2014 – 2017

Funding: Lower Saxony Ministry for Agriculture, Nutrition and Consumer Protection

Contact: Prof. Dr. Ralf Pude (r.pude(at)uni-bonn.de)