Adaptation strategies to changing climate conditions
Chilling requirements in fruit trees

A cooperation of the University Bonn (INRES Horticultural Science and Centre for Development Research (ZEF)), the DLR and partners from the World Agroforestry Centre (ICRAF), Nairobi, Kenya, investigates the plant physiological basics of chilling requirements of fruit trees.  The chilling requirement was determined using the most used models: chilling hours (CH) after Weinberger 1950, chill units (CU) after Richardson et al. 1974 and chill portions (CP) after Erez et al. 1987.
Using 160 container trees and three sweet cherry varieties, eight climate scenarios were investigated because in our temperate zones, cherries are the fruit species most influenced by climate change with resulting warmer winters. The popular variety "Schneiders späte Knorpelkirsche" for example has a high chilling requirement of 1.500 CH. The three varieties were selected by their specific chilling requirements (low: 500 CH; medium: 1.000 CH; high: 1.500 CH). To simulate recent climate change with a temperature increase of maximum 2°C, part of the container trees are placed in a non-heated greenhouse.

Responsible: Heiko Kaufmann, University of Bonn (INRES Horticultural Science)

Partners: Martin Balmer (DLR), Dr. Eike Lüdeling (ICRAF, Kenya), Prof. Dr. Jens Gebauer (Hochschule Rhein-Waal)

Duration: 2013 -2017

Contact: Dr. Michael Blanke (mmblanke(at)uni-bonn.de)
NutriHAF Africa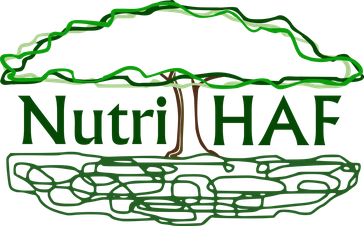 NutriHAF AFrica is a cooperative project in which KoGa works together with the Centre for Development Research (ZEF), GlobalHort and eleven further partners in Germany and Africa. The research and capacity building project explores and integrates appropriate fruit and vegetable crops into multi-storey cropping systems, in order to intensify and diversify the agriculture in Ethiopia and Madagascar, to improve the (micro-) nutrition security and finally, to reduce pressure on natural habitats in biodiversity hotspots. By using a gender-sensitive and participative action research approach, the project will ensure that the requirements and priorities of poor smallholder men and women are recognized and thus the adoption potential of the project is increased.
In Ethiopia, more than half and in Madagascar 35% of all households don't have access to sufficient nutrition. An even larger part of the population suffers from micronutrient deficiencies. Both Madagascar and large parts of Ethiopia are within so-called biodiversity hotspots which are particularly rich in endemic species but are also threatened by human activity. The interactions between poverty, nutrition, biodiversity and extreme habitat loss are highly complex and require actions that integrate food and nutrition security with attempts to preserve biodiversity. More bio-diverse agricultural systems, which, in addition to the common staple crops, include vegetables and fruits, pulses, root and tuber crops can provide the means for a balanced diet and environmental resilience besides improving the efficiency and productivity of a given area
To achieve a sustainably diversified agriculture and balanced nutrition for men, women and children, the project has three components: (i) a vegetable and production component, (ii) a socio-economic component and (iii) a training and capacity building component. Here a focus is on inter- and transdisciplinary and joint learning.
KoGa and ECFF (Environment and Coffee Forest Forum) are jointly coordinating NutriHAF's Work Package 2 (Identification of appropriate vegetable species, suitable cropping patterns, nutrient content of crops and post-harvest technologies).

Responsible: University of Bonn (INRES Horticultural Science) with 14 partners

Duration: 2015-2018

Funding: BMEL

Contact: Dr. Simone Kriesemer (sk.kriesemer(at)ko-ga.eu)