Adaptation strategies to changing climate conditions
Ecological enhancement of irrigation ponds: increasing resource efficiency and resource security in fruit growing

Water is one of the central resources in fruit growing. Not only is it needed for the irrigation of crops, but increasingly due to the consequences of climate change, for frost protection irrigation in spring when late frosts endanger earlier flowering and as protection against sunburn of the developing fruits during midsummer heat waves. In order to provide the necessary water, increasing numbers of irrigation tanks or basins are being planned. Planning approval procedures are complex due to ecological but also social aspects. Fruit growers usually have to apply compensatory measures for these irrigation systems.

In this project, we investigate which possibilities for ecological enhancement can be used in an existing pond, how this affects the biodiversity of the aquatic and adjacent terrestrial area and to what extent the water quality of ecologically upgraded ponds meets the requirements for irrigation water with regard to mineral content and pathogen occurrence. The pond to be upgraded is located at the DLR Rheinpfalz research site in Klein-Altendorf. In its immediate vicinity there is another pond, which is not upgraded.

By documenting biodiversity at and in the ecologically upgraded ponds, information will be provided for the approval authorities that may affect the requirement for compensatory measures. Likewise, the results should convince farm managers that such valuable ponds can be used for irrigation.

Partners
Universität Bonn (Institut für Agrarökologie und Organischen Landbau)
DLR-Rheinpfalz
Duration
1.9.2022 – 31.12.2023

Financing
QS Wissenschaftsfonds

Contact
Dr. Jan Ellenberger (ellenberger(at)uni-bonn.de), Dr. Andreé Hamm (a.hamm(at)uni-bonn.de)
A novel and integrated approach to increase multiple and combined stress tolerance in plants using tomato as a model (TOMRES)

Tomato is a main EU agricultural commodity, cultivated all over Europe in open and protected field and in glasshouses, representing a biological and agronomical model crop. Combined water and nutrient stress is a major problem for tomato farmers and solutions are needed to safeguard yields, while preserving the environment.

The overall goal of TOMRES is to enhance resilience to combined water and nutrient stress in tomato and to maximize water (WUE) and nutrient use efficiency (NUE) by designing and testing in the field (open and protected) novel combinations of genotypes and management practices reducing the environmental impact of agricultural activities.

To this aim, TOMRES will select, among over 10,000 available accessions, rootstocks and scions tolerating combined stress, while retaining fruit quality and yield, taking advantage of innovative screening approaches. Novel traits, in particular belowground, to be exploited in breeding, will be identified. The role of selected hormones (strigolactones and brassinosteroids) will be studied to identify further resilience traits. TOMRES will test and optimize sustainable crop management strategies such as legume intercropping, precision fertilization and irrigation techniques, manipulation of symbiotic microorganisms, and the use of rootstocks more suited to water and nutrient uptake from the soil.

Novel genotypes X management strategies will be developed with the goal of reducing N and P application by at least 20%, water input by 40%, while granting environmental sustainability and economic viability of the solutions proposed. Testing will be integrated with analysis of environmental (greenhouse emissions, water quality), and of socio-economic impact. Agronomical, environmental, and economical data will be processed to construction of models and of a Decision Support System.

Demonstration and dissemination activities will follow the whole course of the project, and will transfer the results to different environments and other cropping systems, thus ensuring the widest impact of the gained knowledge on the EU economy. Trans-disciplinary knowledge transfer among farmers, breeders, industries, associations and scientists will be granted by a solid multi-actor approach since the planning stage.

In this project, the two German partners Bonn University and Neurather Gärtner are working closely together in research and practice application. Central to the research of Dr. Simone Röhlen-Schmittgen at the university's INRES Horticultural Science is the early detection of drought and nutrient stress with optical sensors. Being more sensitive to stress signals than the human eye they can be an important early warning system. With these methods Ms. Röhlen-Schmittgen aim to select appropriate tomato genotypes out of the many possible breeding lines. She is supported in her work by doctoral student Jan Ellenberger and colleagues Matheus Kuska and PD Dr. Ann-Kathrin Mahlein from INRES Phytopathology. Prof. Dr. Andreas Schieber and Dr. Fabian Weber from the Institute for Molecular Food Technology investigate the nutritious compounds of tomato and will determine which varieties are particularly tasty and healthy. Dr. Hannah Jaenicke from KoGa leads the dissemination activities of the project.

Films of the project on YouTube:

Partners:
University of Turin, Italy (Lead)
University of Bonn (KoGa, Institute for Crop Science and Resource Use (INRES) Horticultural Sciences and  Institute for Molecular Food Technology)
Neurather Gärtner GbR
22 further partners from Italy, Spain, Greece, France, Israel, Slowenia, Romania, Great Britain, Belgium
Duration: 1.6.2017 – 30.11.2020

Funding: EU Horizon 2020. Grant Agreement No.727929 

Project website: www.tomres.eu

Contact: Dr. Hannah Jaenicke (h.jaenicke(at)uni-bonn.de), Dr. Simone Röhlen-Schmittgen (s.schmittgen(at)uni-bonn.de)
Chilling requirements in fruit trees

A cooperation of the University Bonn (INRES Horticultural Science and Centre for Development Research (ZEF)), the DLR and partners from the World Agroforestry Centre (ICRAF), Nairobi, Kenya, investigates the plant physiological basics of chilling requirements of fruit trees.  The chilling requirement was determined using the most used models: chilling hours (CH) after Weinberger 1950, chill units (CU) after Richardson et al. 1974 and chill portions (CP) after Erez et al. 1987.
Using 160 container trees and three sweet cherry varieties, eight climate scenarios were investigated because in our temperate zones, cherries are the fruit species most influenced by climate change with resulting warmer winters. The popular variety "Schneiders späte Knorpelkirsche" for example has a high chilling requirement of 1.500 CH. The three varieties were selected by their specific chilling requirements (low: 500 CH; medium: 1.000 CH; high: 1.500 CH). To simulate recent climate change with a temperature increase of maximum 2°C, part of the container trees are placed in a non-heated greenhouse.

Responsible: Heiko Kaufmann, University of Bonn (INRES Horticultural Science)

Partners: Martin Balmer (DLR), Dr. Eike Lüdeling (ICRAF, Kenya), Prof. Dr. Jens Gebauer (Hochschule Rhein-Waal)

Duration: 2013 -2017

Contact: Dr. Michael Blanke (mmblanke(at)uni-bonn.de)
NutriHAF Africa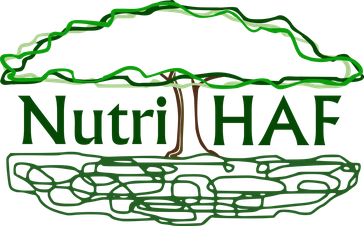 NutriHAF AFrica is a cooperative project in which KoGa works together with the Centre for Development Research (ZEF), GlobalHort and eleven further partners in Germany and Africa. The research and capacity building project explores and integrates appropriate fruit and vegetable crops into multi-storey cropping systems, in order to intensify and diversify the agriculture in Ethiopia and Madagascar, to improve the (micro-) nutrition security and finally, to reduce pressure on natural habitats in biodiversity hotspots. By using a gender-sensitive and participative action research approach, the project will ensure that the requirements and priorities of poor smallholder men and women are recognized and thus the adoption potential of the project is increased.
In Ethiopia, more than half and in Madagascar 35% of all households don't have access to sufficient nutrition. An even larger part of the population suffers from micronutrient deficiencies. Both Madagascar and large parts of Ethiopia are within so-called biodiversity hotspots which are particularly rich in endemic species but are also threatened by human activity. The interactions between poverty, nutrition, biodiversity and extreme habitat loss are highly complex and require actions that integrate food and nutrition security with attempts to preserve biodiversity. More bio-diverse agricultural systems, which, in addition to the common staple crops, include vegetables and fruits, pulses, root and tuber crops can provide the means for a balanced diet and environmental resilience besides improving the efficiency and productivity of a given area
To achieve a sustainably diversified agriculture and balanced nutrition for men, women and children, the project has three components: (i) a vegetable and production component, (ii) a socio-economic component and (iii) a training and capacity building component. Here a focus is on inter- and transdisciplinary and joint learning.
KoGa and ECFF (Environment and Coffee Forest Forum) are jointly coordinating NutriHAF's Work Package 2 (Identification of appropriate vegetable species, suitable cropping patterns, nutrient content of crops and post-harvest technologies).

Responsible: University of Bonn (INRES Horticultural Science) with 14 partners

Duration: 2015-2018

Funding: BMEL

Contact: Dr. Simone Kriesemer (sk.kriesemer(at)ko-ga.eu)