Projects: Vegetables
NutriHAF-Africa
... is a project in which KoGa cooperates with the Center for Development Research (ZEF), GlobalHort) and eleven other partners from Germany and Africa.
The research and capacity building project explores and integrates appropriate fruit and vegetable crops into multi-storey cropping systems to increase (micro-) nutrition security, diversify and intensify agriculture in Ethiopia and Madagascar and thus to reduce pressure on natural habitats in biodiversity hotspots. By utilizing a gender-sensitive participatory action research the project will ensure that the needs and preferences of poor male and female smallholders are considered and thus increase the adoption potential.

In Ethiopia, over half of the households do not have access to sufficient food; for Madagascar the figure is 35%. A much larger share of the population is affected by micronutrient deficiencies. Madagascar and parts of Ethiopia are also both within so-called biodiversity hotspots which are especially rich in endemic species but particularly threatened by human activities. The interactions between poverty, nutrition, biodiversity and extreme habitat loss are highly complex and require actions that integrate food and nutrition security with attempts to preserve biodiversity. More bio-diverse agricultural systems, which, in addition to the common staple crops, include vegetables and fruits, pulses, root and tuber crops can provide the means for a balanced diet and environmental resilience besides improving the efficiency and productivity of a given area.

To reach a sustainable diversified agriculture and balanced nutrition of men, women and children, the research includes three components: (i) a vegetable and cropping system component; (ii) a socio-economic component, and (iii) a capacity building and knowledge transfer component. A strong emphasis is put on inter- and transdisciplinarity as well as joint learning.
KoGa and ECFF (Environment and Coffee Forest Forum) will jointly coordinate NutriHAF's Work Package 2 "Identification of appropriate vegetable species, suitable cropping patterns, nutrient content of crops, and post harvest technologies".

Bearbeitung: Universität Bonn (INRES Gartenbauwissenschaften) mit 14 weiteren Partnern

Laufzeit: 2015-2018

Finanzierung: BMEL

Kontakt: Dr. Simone Kriesemer, e-mail: sk.kriesemer@ko-ga.eu

Cultivation experiences with artichokes in Organic Agriculture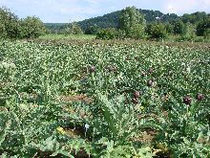 Positive experiences of practice businesses show that the growth of organic artichokes is from a crop production standpoint possible, and can be profitable under local conditions. For organically managed businesses the direct marketing of artichokes (Cynara scolymus L.) is a chance to increase competitiveness by broadening the list of offered products. Based on the interesting taste profile and nutrition profile, the artichoke offers favorable marketing options. By becoming a market leader in the production of this high value crop, organic agriculture can sharpen its image as a provider of healthier and more appealing food. The goal of this project is the exploitation of cultivation experiences with various artichoke varieties using organic methods under local conditions in the Lower Rhine bay.

In 2007 and 2008 test plots with the varieties 'Imperial Star' and 'JW 109' were established at the farm for organic research "Wiesengut" in the Sieg valley in Hennef. It was tested whether higher yields could be achieved by removing secondary nodes and\or secondary branches under organic conditions. The reduction of buds in fact lead to increased fresh mass of single shoots, but - based on the high amount of marketable buds in the variants that were not cut back - to clearly lower hectare yields.

For the successful direct marketing of organically grown artichokes, it has been shown that choosing the correct variety with concern to yield potential and characteristics for fresh consumption is significant. In addition high weight shares in the edible parts of the buds, especially the receptacles and the thick, fleshy bases of the outer bracts count. In the frame of the project, a method was developed to determine the shares of the different edible parts of the artichoke head. This method was used to differentiate varieties.

A critical factor in the annexing of artichokes into organic agriculture is the inspection of pests, especially the epidemically appearing black bean aphid (Aphis fabae). In current field experiments, different strategies are being examined to regulate this pest and its effects on yields and product quality.

Bearbeitung: Dr. T. Kautz, F. Täufer, Prof. Dr. U. Köpke

Laufzeit: 2007-2009

Kontakt: Dr. T. Kautz, e-mail: tkautz@uni-bonn.de

Publikationen:

KAUTZ, T., KÖPKE U. (2009). Anbauerfahrung mit Artischocken im Organischen Landbau. In: Mayer, J., Alföldi, T., Leiber, F. et al. (Hrsg.): Werte - Wege - Wirkungen: Biolandbau im Spannungsfeld zwischen Ernährungssicherung, Markt und Klimawandel. Beiträge zur 10. Wissenschaftstagung Ökologischer Landbau. Zürich, 11.-13. Februar 2009. Band 1. Köster, Berlin. S. 151-152.
KAUTZ, T., TÄUFER, F., KÖPKE U. (2009). Cynara scolymus L.: An Accurate Method for Determining the Edible Parts. Eur. J. Hort. Sci., in press.