Events 2015
Expert talk on "Seeds and Sustainable Agriculture", Bonn (Germany), December 8, 2015 | 10:00 h - 14:30 h

The GIZ Sector Project Sustainable Agriculture funded by BMZ cordially invites you to the expert talk on "Seeds and Sustainable Agriculture", Bonn (GIZ Bonn, Friedrich-Ebert-Allee 36, Mäanderbau, BM 10027/29), 8th of December 2015, 10:00 am – 2.30pm.

The issue of how small-scale farmers in developing countries could benefit from scientific breeding progress and access seeds of good quality is highly topical.  Where local seed systems are under pressure,  community seed banks could offer new opportunities for farmers to manage and access seeds and hence  contribute to food security. Furthermore, breeding activities of the private and public sectors, if directed towards the needs of small-scale farmers, help to increase productivity of farming systems and open up new opportunities for income generation. However, intellectual property rights on new varieties of plants, often providing a strong legal basis for plant breeders to limit the farmers' customary practices of saving,
using and sharing seeds, are a debated issue in this regard. Alternative sui generis systems to plant variety  protection offer options for balancing the diverging interests of different actors in the seed market and provide discretion to governments to address food security, biodiversity conservation and intellectual property rights in an integrated way.

Four key note speakers will enlighten different aspects of these topics and invite for
discussion.
Ellen Funch (BMZ, Special Unit One World - No Hunger)
Opening
Barbara Schweiger (GIZ, Section Agricultural Policy, Food Security and Sustainable use of Resources)
Welcome
Dr.Johannes Kotschi(AGRECOL-Association for AgriCulture and Ecology)
"Agricultural seeds towards future sustainability"
Dr. Anja Christinck (seed4change)
"The UPOV Convention, Farmers' Rights and human rights" presentation of a study on behalf of BMZ, published  by GIZ
Prof. Carlos Correa (University of Buenos Aires and South Centre)
"Developing a sui generis regime for the protection of plant varieties: an alternative to UPOV 1991"
Dr. Ronnie Vernooy (Bioversity International)
Book release: "Community seed banks: origins, evolution and prospects"
Moderation: Dr. Alberto Camacho and Friederike Kraemer (GIZ, SV Sustainable Agriculture)

Finger food for lunch will be provided. Please register as soon as possible. Registered participants
will get as a gift the book "Community seed banks: origins, evolution and prospects".
For registration please contact: Maria Hoehne (maria.hoehne@giz.de)

Lecture on Studying agriculture-nutrition interventions to evaluate and learn possible impact pathways, September 10, 2015 | 13:30 h - 14:30 h
We cordially invite you to our next public lecture with Dr. Irmgard Jordan, Justus-Liebig University of Gießen, on "Studying agriculture-nutrition interventions to evaluate and learn possible impact pathways"
Date: Thursday, September 10, 2015, 1:30 – 2:30 p.m.
Venue: Zentrum für Entwicklungsforschung / Center for Development Research (ZEF), Walter-Flex-Straße 3, 53113 Bonn, right conference room, ground floor.

Abstract: FAO carried out agricultural production and diversification programs in Malawi (IFSN) and Cambodia (MALIS) in combination with a nutrition education for behavior change intervention targeted at families with children aged 6 - 23 months (Malawi: 2011 - 2015; Cambodia: 2012 - 2015). The research team from the Lilongwe University of Agriculture and Natural Resources (Lunar), Malawi, Mahidol University (Thailand) and Justus Liebig University Giessen, Germany, carried out cluster randomized controlled trials (cRCT) in the communities targeted by the FAO programs. Cross-sectional surveys were conducted to assess child nutrition outcomes, including intermediate outcomes such as maternal acquisition of knowledge and adoption of optimal nutrition practices. Qualitative methods were used together with results of longitudinal studies to evaluate and learn about possible impact pathways.

About the speaker: Dr. Irmgard Jordan studied nutritional sciences and home economics at the Justus Liebig University, Giessen in Germany. She wrote her master's thesis about the role of indigenous plants for nutrition security. After her studies she looked at the potential roles of energy -saving stoves for nutrition security in Africa and nutrition security in Sri Lanka. In 2005, she started a research study on breast cancer and nutrition in the Kilimanjaro Region of Tanzania, linking international and clinical nutrition. This research resulted in a doctoral degree in 2012. Her present research focuses on effectiveness of nutrition education and food security to improve the nutritional status of infants and young children in Malawi and Cambodia.

Entrance to the lecture is free, no registration is required. We are looking forward to seeing you at ZEF on September 10!

Further information: http://www.zef.de/index.php?id=2259&tx_ttnews[tt_news]=6345&contact=976&cHash=d59e4a03f237b6d65e3f5d3453ec217b

Food Safety and Regulatory Measures, Birmingham (UK), August 17-19, 2015
The aim of this conference is to learn and share knowledge in food safety research. Leading world food scientists, food safety specialists, nutritionists, industrialists, public health professionals, environmental health professionals, academic scientists, industry researchers, scholars, regulators, decision makers and other professionals gather in Birmingham 17-19 August 2015 to speak at Food Safety-2015.

Scientific Features of Food Safety-2015:
For the tentative program please visit: http://foodsafety-hygiene.conferenceseries.com/scientific-program.php?day=1&sid=734&date=2015-08-17
For the poster program please visit: http://foodsafety-hygiene.conferenceseries.com/poster.php

Confirmed Pre Conference Workshops:
Prof/Dr. Arpad Ambrus, Hungary: "Safety assessment of chemical contaminants in food"

Submit your abstract at: http://foodsafety-hygiene.conferenceseries.com/call-for-abstracts.php
II International Symposium on Pyrethrum, Kyoto (Japan), 6-9 August 2015

The ISHS II International Symposium on Pyrethrum is devoted to understanding the current status of pyrethrum production, stewardship, biosynthesis and applications of the natural insecticides, pyrethrins. In addition, this Symposium addresses the selective toxicity and resistance mechanisms of synthetic pyrethroids as well as natural pyrethrins. The actions on pests, natural enemies and plants of volatiles derived from pyrethrin biosynthesis will also be examined.

Invited speakers (including plenary lecturers): please submit your abstract at the latest by March 31, 2015.
Participants who would like to present a poster: please submit your abstract at the latest by May 31, 2015.


For more information about the symposium, please go to http://www.pac.ne.jp/pyrethrum2015/

III International Symposium on Postharvest Pathology: Using Science to Increase Food Availability, Bari (Italy), 7-11 June 2015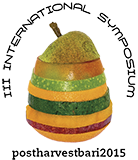 The "III International Symposium on Postharvest Pathology: Using Science to Increase Food Availability" will be held in Bari (Italy), June 7-11, 2015, under the patronage of the International Society for Horticultural Science (ISHS), the International Society of Plant Pathology (ISPP), the Italian Phytopathological Society (SIPaV) and EXPO2015.
The symposium will include invited lectures, contributed oral and poster presentations, and exhibitions. Opportunities to visit packinghouses, production sites, and places of local interest during the symposium will also be arranged.
Deadline abstract submission: March 03, 2015
Deadline fulltext submission: July 07, 2015
For more information, please go to http://www.ishs.org/symposium/501.
Invitation

The Horticulture Competence Centre (KoGa) and GlobalHort at Bonn University cordially invite you to a lecture presented by

Professor Dr. Roderick A. Drew
School of Natural Sciences, Griffith University Australia and
President of the International Society for Horticultural Sciences (ISHS)

"Research innovations and international networks benefit sustainable horticultural production"

Professor Rod Drew teaches horticulture and plant biotechnology and does research on tropical fruits. His main expertise is in plant tissue culture. Before working at Griffith University for 18 years, he worked for 26 years in the Queensland Government Department of Primary Industries.

The event will take place
On Thursday 7th May, 2015, 4:15 to 5:45 pm
In Lecture Hall A, Institute of Anatomy, Nussallee 10, 53115 Bonn
2nd International Workshop on Bacterial diseases of Stone Fruits and Nuts 21-24 April 2015, Izmir, TURKEY
You are cordially invited to attend the 2nd International Workshop on bacterial diseases of Stone fruits and nuts in Izmir, Turkey. The meeting will cover all the aspects of research on bacterial diseases of Stone fruits and nuts, presenting the latest advances in relevant fields such as host and pathogen genetics/genomics, host-pathogen interactions and behaviour, disease epidemiology and ecology, pathogen identification, resistance breeding, chemical/biological control and disease management strategies.

All contributions addressing these topics are welcome. The meeting will include invited and contributed talks as well as poster and discussion sessions. More information is available at: http://www.stonefruitsandsnuts2015.org. The conference language is English. Deadline for abstract submission is 30 January 2015.