News 2016
III International Symposium on Horticulture in Europe - SHE2016

Every four years, horticultural scientists meet at the European level under the auspices of the ISHS. After the first meeting in Vienna in February 2008 and second meeting in Angers in 2012, ca. 350 scientists attended the 3rdSymposium on Horticulture in Europe (she) organized by Prof. Panagiotis Kalaitzis (Mediterranean Agronomic Institute at Chania) and Prof. George Manganaris (Cyprus Institute of Technology) in Chania, Crete in October 2016. 
Two parallel oral sessions were accompanied by ca.230 posters ranging from phenotyping, health aspects of fruit and vegetable consumption, adaption strategies to combat climate change effects, new breeding and new orchard technologies including reducing spray drift and volumes. 
The University of Bonn, BIOSC and FZ Jülich provided an invited plenary speaker, session chair, an oral lecture on 'wax bloom on plum' and presented their latest findings in two oral and eight posters on reflective mulches, climate change effects on fruit (chilling), forcing cherry under cover, extraction of tomato leaf ingredients, mechanical thinning and yield prediction in apple and opto-electrical sensors for the detection of fruit surface features in apple and pear as well as pomegranate.
On Friday morning, excursions provided the option for insights into Crete's leading winery or an organic olive oil press in Maich. The symposium contributions are due to be published in Acta Horticulturae. The next SHE will take place in 2020 in Trentino, Italy.
ISHS YoungMinds project - building a future-oriented relationship with students and young scientists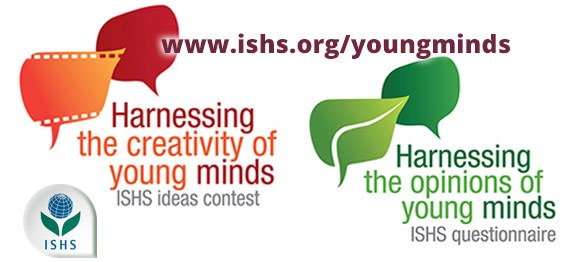 The International Society for Horticultural Science (ISHS) has just recently launched its young minds project www.ishs.org/youngminds which consists of initiatives such as a Questionnaire and an Ideas Contest both specifically targeting students and young scientists .

"The young scientists of today will not only be the scientists of tomorrow but will also be the future leaders of the ISHS."

ISHS aims at understanding the motivations, expectations and impediments of young people to pursue horticultural careers and to become a member of our Society.
Harnessing the opinions and perception of potential new horticulturists is essential to ensure that their voices are taken seriously when identifying and implementing future requirements.
Students, postdocs and young scientists are invited to participate in an online questionnaire  aimed at capturing your voice in relation to professional careers in the horticultural sector and ISHS membership.
Twenty respondents will receive a one-year of free ISHS membership and ten respondents will receive a tablet computer.
In addition ISHS is calling upon your creative and forward-directed ideas and thoughts to develop in strong consonance with you some inventive promotional material that encapsulates the many exciting opportunities in horticultural sciences and in engaging with our Society.
Students, postdocs and young scientists from all over the globe are invited to create and submit an eye-catching and inspirational video   of less than 5 minutes to demonstrate one or more of the following:
the attraction, beauty and diversity of horticultural sciences;
your motivation, interest and curiosity towards horticultural sciences;
the richness of career opportunities in horticultural sciences;
potential benefits of being a member of the ISHS.
Additional information you can find here: http://www.ishs.org/youngminds
Reflecting on four years EU COST Action on Cherries
Final EU COST Cherry FA 1104 conference in Naoussa, Greece
Nearly 110 cherry experts and members of the COST Cherry FA 1104 project under the leadership of Jose Garcia met for the final conference in April 2016 in Naoussa in Macedonia. The results of this four-year-project (2012-2016) were presented from the four working groups, 1) pest and pathogens; 2) phenology and climate change 3) genomics and breeding and 4) economy and consumer perception. Greg Lang and Matthew Whiting were welcomed as invited speakers from the US to this otherwise European initiative and conference. In the absence of any conference proceedings, many of the contributions will be made available on the COST cherry homepage (www.cost.eu/COST_Actions/fa/FA1104), and the results of WG 2 (incl. harmonization of the cherry phenology stages and cherry varieties under observation for climate change) in a dedicated volume of Acta Horticulturae.  
Visit of Alexander-von-Humboldt Climate Protection Fellows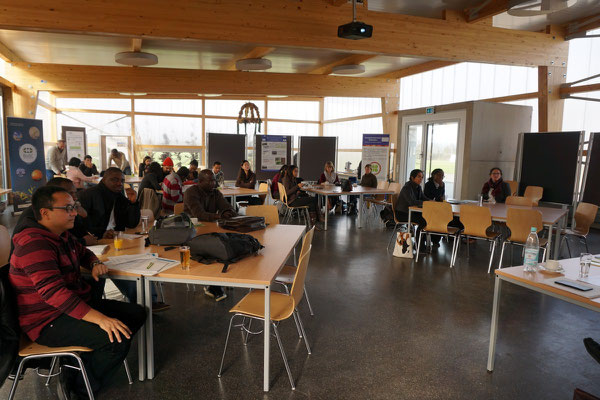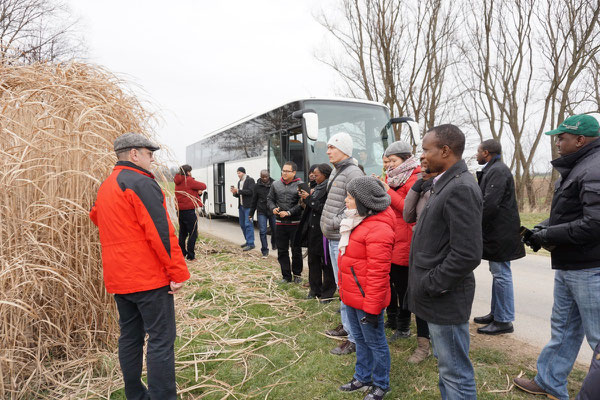 On 1st March, twenty AvH Climate Protection Fellows visited the Bioeconomy Science Centre (BioSC) and Bonn University at Campus Klein-Altendorf. The visit was organized by CIPSEM (Centre for International Postgraduate Studies of Environmental Management) of TU Dresden. The participants from 17 countries in Africa, Latin America and Asia had opportunity to learn about interdisciplinary research approaches in Germany. After an introduction to the global challenges for research in Germany and Europe (Dr. C. Patermann), and an introduction to BioSC activities (Dr. A. Gubelt), the participants learned about the activities of Bonn University on renewable resources (Dr. T. Kraska) and relevant climate research activities at INRES Horticultural Sciences (Dr. M. Blanke, Dr. S. Schmittgen, H. Kaufmann, H. Hillmann). A brief introduction into the KoGa network was also given (Dr. H. Jaenicke). The presentations stimulated a rich and lively discussion with the very interested visitors.