News 2015
NutriHAF-Africa project launched successfully
The NutriHAF-Africa project carried out its kick-off workshop in Addis Ababa, Ethiopia from July 6-9, 2015. NutriHAF-Africa is a research and capacity building project that explores options to integrate appropriate fruit and vegetable crops into multi-storey cropping systems with the aim of increasing (micro-) nutrition security, diversifying and intensifying agriculture and thus reducing pressure on natural habitats in biodiversity hotspots.
The workshop participants were representatives of the project's partners in Germany (ZEF, GlobalHort, KoGa), Ethiopia (ECFF, Ethiopian Environment and Forest Research Institute (EEFRI)) and Madagascar (FOFIFA, University of Antananarivo, Welthungerhilfe), as well as from regional organisations (ASARECA, FANRPAN) and international partners (AVRDC, Horticulture Innovation Lab).
The workshop was opened with presentations by Ms. Laketch Mikael (Agricultural Transformation Agency), Mr. Samuel Bwalya (United Nations Development Programme) and Dr. Mohamad Yesuf (Ethiopian Institute for Agricultural Research). Representatives of the World Agroforestry Centre and GIZ were also attending parts of the workshop.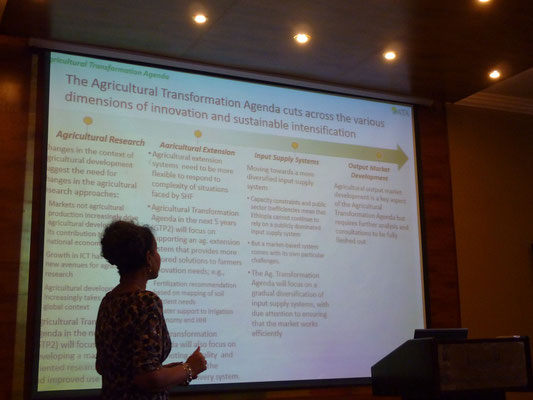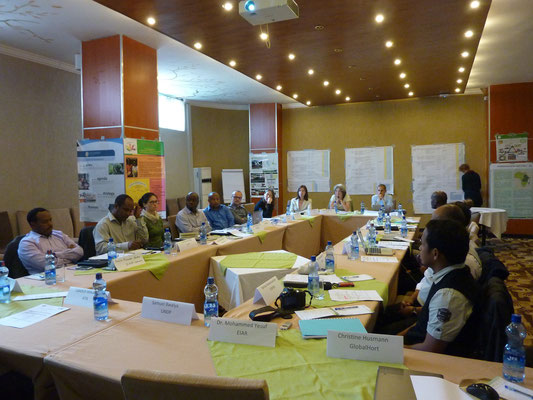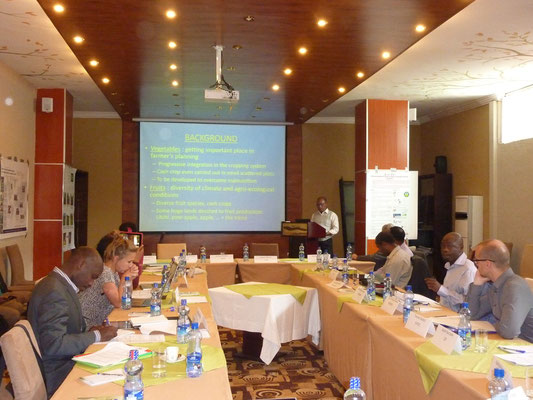 During the workshop, the participants had the opportunity to develop a detailed work plan for the first six months of the project and to outline the activities and responsibilities for the entire project time span. Criteria for selecting research sites and for benchmarking were also developed. Being a trans- and interdisciplinary project, internal communication and exchange were identified as key elements of success.
Ten postdoctoral fellows at ZEF, GlobalHort, KoGa, EECF, EEFRI, ASARECA, FANRPAN and FOFIFA together with 54 MSc students will carry out the project in Ethiopia and Madagascar during the next three years.
Dr. Simone Kathrin Kriesemer is the new Senior Researcher at the Horticulture Competence Centre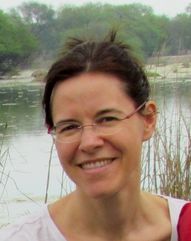 Since June 2015, Dr. Simone Kathrin Kriesemer is Senior Researcher at the Horticulture Competence Centre. Amongst her responsibilities is the coordination of a project component of the"NutriHAF-Africa" Project; (Diversified agriculture for balanced nutrition through fruits and vegetables in multi-storey cropping systems) in which she will identify and promote appropriate fruit and vegetable species and varieties, suitable cropping patterns for their cultivation, their nutrient content, and appropriate post-harvest technologies.
Before joining KoGa, she assessed the sustainability of agricultural innovations that are suitable for poor and vulnerable people within the SATNET Asia Project when working for the Food Security Center (FSC) of the University of Hohenheim, Stuttgart, Germany. Before her assignment with FSC, she was Research Associate/ PostDoc in Socioeconomics at AVRDC – The World Vegetable Center in India and Taiwan. Her work focus was on the adoption and diffusion of agricultural innovations and the impact evaluation of development projects and training courses. She completed her MSc in Agricultural Sciences, Food Security and Natural Resource Management in the Tropics and Subtropics and was PhD student at the Department of Agricultural Communication and Extension at the University of Hohenheim.
President of ISHS visits KoGa
A delegation from the International Society of Horticultural Sciences (ISHS) visited Bonn on 7 May and held talks with representatives of ZEF, GlobalHort, KoGa and other institutions. In the afternoon, Professor Rod Drew, President of ISHS, gave a lecture under the title "Research innovations and international networks benefit sustainable horticultural production". The inspiring lecture led the audience of more than 100 students and scientists into the world of tropical horticulture and presented the results of research and breeding successes for resistance to the worldwide important Papaya Ringspot Virus in Drew's research group at Griffith University, Australia. It ended with a call to the students and scientists to engage in any of the diverse areas of horticulture and in networks such as GlobalHort, ISHS and KoGa. After the lecture, the guests had the opportunity for a guided tour through the Botanical Garden in Poppelsdorf.

Heads of Horticulture of Bayer CropSciences visited KoGa and Campus Klein-Altendorf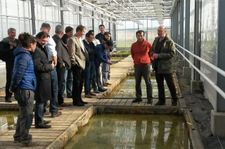 On 28 April, the Heads of Horticulture of Bayer CropSciences visited KoGa and Campus Klein-Altendorf. The international strategy group is currently discussing the future direction of horticulture with a view to 2030. During their visit they had opportunity to learn about current research in the areas of sensor applications and digital horticulture. Presentations about the Horticulture Competence Centre, plant phenotyping research at Jülich Research Centre, current research in the collaborative research project Crop.Sense and a visit to the research greenhouses complemented the visit.
KoGa is a member of the new research initiative "NutriHAF" to combat hunger and malnutrition in Eastern and Southern Africa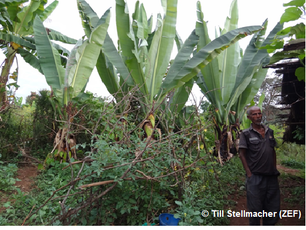 KoGa, as part of the research initiative NutriHAF ("Diversifying agriculture for balanced nutrition through fruits and vegetables in multi-storey cropping systems"), will promote the cultivation of vegetables and fruits in multi-storey cropping systems in Ethiopia and Madagascar.  Different goals are to be achieved: the reduction of malnutrition in Ethiopia and Madagascar; conservation of biodiversity and natural resources; and creating awareness for the importance of a varied diet through capacity building among farmers, consumers, politicians and extension services.
The aim of the research project is to find and introduce adequate varieties fruits of and vegetables that help to improve the nutritional status of the local population. Providing new sources of food and income will then help to reduce the pressure on natural resources and prevent resource depletion. A first step will be to find out more about the habits of food consumption in order to identify seasonal gaps in calorie- and nutrient intakes. These gaps are then to be filled with the consumption of the species that are introduced by the project. Awareness creation and trainings for local decision makers and extension workers will help to put nutrition and the importance of a diversified diet on the agenda.
Farmers, policy makers and other actors along the whole value chain will be involved at all stages of the project. Gender issues are a central aspect as women are often responsible not only for cooking but also for food production.
ZFE, GlobalHort and KoGa are part of the project consortium. Furthermore, the consortium includes 11 other partners in Africa and Germany that are all involved in research and capacity building.
The project is funded by the German Federal Ministry of Food and Agriculture for three years.
Dr Simeon Hengari (Namibia-Stellenbosch) at Bonn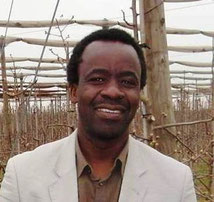 On his way to a UN meeting in Bonn on Friday 27 March 2015, Dr. Simeon Hengari stopped by at the University of Bonn to introduce himself. At Institute for Landtechnik, he gave a lecture on his work on sunburn based on 8 years of chlorophyll fluorescence field measurements at local farms in the Eastern Cape.
Dr Hengari just received his PhD degree from the University of Stellenbosch on 25 March 2015. Therein, Dr. M. Blanke acted as external examiner for his PhD on "Inherent mechanisms of sunburn resistance in apple fruit". This first get- together at Bonn provided the opportunity to jointly go through his PhD thesis before it goes to print (online) in November this year. The work is of particular interest, because it is expected that sunburn will increase with climate change aspect, there is little experience with combating sunburn at 50°latitude and the thesis emphasizes inherent plant defense mechanisms.
A brief impromptu visit to Campus Klein-Altendorf showed him he ongoing hail net experiments with a perspective of reducing sunburn when used as shade nets.
KoGa present at German Horticultural Science Conference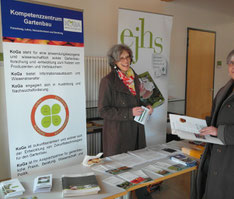 KoGa presented itself with an information stand and several scientific contributions at the 50th Horticultural Science Conference and International WeGa Symposium, held in Freising 25th to 28th February, 2015. The information stand presented publications and information material of KoGa' s partners. Poster and oral presentations as well as the information stand saw keen interest with questions about the mode of operation of KoGa and, of course, the scientific results of the collaborative research projects. Abstracts of the scientific contributions at the Conference can be found at the website of the German Society for Horticultural Sciences (DGG): http://www.dgg-online.org/tagung_freising_2015/infos/tagungsband_2015.pdf

EUFRIN-Workshop
Invited by DLR Rhineland Palatinate and University of Bonn, the international experts of EURFRIN (European Fruit Research Institutes Network) met from 19 – 21 February 2015 for the theme fruit thinning. Participants came from 13 countries and three continents and discussed new insights and innovative approaches in the area of fruit thinning for fruit trees. The scientific results of the workshop will be published through the International Society for Horticultural Sciences (ISHS).

INTERPOMA 2014: Climate Change and Fruit Production
INTERPOMA, the largest apple congress worldwide attracted c. 16,000 fruit experts from 61 countries in Bozen, South Tyrol from 20-22 November 2014 with the concomitant popular technical exhibit of new orchard and grading machinery.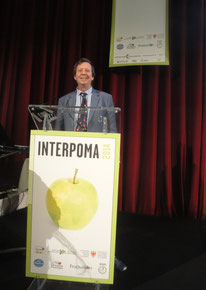 The climate change session and discussion was led by Professor Massimo Tagliavini of Bozen s Free University, an expert on CO2 and gas exchange of apple trees and orchards.  

In his opening speech, Professor Jeff Andresen (Michigan, USA) reviewed the IPPC predictions for climate change and highlighted the need for regional down-scaling; he presented phenology records from 1900 to date of the advanced green tip stage of sour cherry in Michigan. 

Dr Michael Blanke (INRES Horticultural Science, University of Bonn)(inserted photo) reported a 13 days earlier apple flowering based on 58 years of both climate and apple phenology data at Campus Klein-Altendorf for the Meckenheim fruit growing region. Dr Blanke proposed cultivation countermeasures against climate change challenges like late spring frost, hail and lack of fruit colouring in bi-coloured apple cultivars in a warm autumn. A current PhD thesis of Heiko Kaufmann in the department is under way to examine which temperate zone fruit crops and cultivars are affected by the lack of winter chilling and consequent lack of flowering and examine possible countermeasures.  

Dr Rainer Stainer, a local retired scientist from Laimburg, analysed the climate change effects on fruit growing in South Tyrol. Historic records over 44 years at Laimburg showed a 10- 13 days earlier apple flowering, while the risk of frost also remained like in Klein-Altendorf; warm autumns prevented (red) colouration particularly of the late ripening an late colouring apple cvs like 'Rosy Glow'.

Visit KoGa at the DGG-Conference

KoGa is a new member of WeGa e.V.

KoGa and WeGa - Kompetenznetz Gartenbau e.V. will cooperate even closer than so far and will be available to each other as network partners. A membership in WeGa e.V. and a closer cooperation of the networks will lead to better information flow and exchange that will benefit all participants.

Call for articles: Rural-urban linkages
When directly engaging with farmers, citizens play an active role in shaping the way their food is produced. Involvement ranges from direct purchase via farm shops and box schemes, to talking with farmers about what to produce and how, to providing inputs such as labour, seeds, knowledge or finance. Many such initiatives are driven by young people. Some are institutionalised, as in public purchasing programmes or food policy councils. Chefs also play a role in strengthening these linkages as they seek fresh, local produce.

As a result, new agroecological practices have developed and the nutrient cycles are closing, leading to healthier farming systems and fewer food miles. Food cultures are developing around territoriality, seasonality, freshness and fair prices. These emerging ideas are even challenging architects and city planners to rethink the design of sewerage and recycling systems, under the concept of 'urban-rural metabolism'.

But these prophecies remain unconfirmed. Although rural-urban relations have radically altered, what we are seeing is a reaffirmation of ways of living that are typical of the countryside and the peasantry. These local responses to globalisation are based on principles of agroecology and multifunctionality, rather than the logic of business and finance. They show that family farmers remain a determining force in the 21st century, forging promising pathways together with citizens to tackle the food, environmental and climate crises.

Articles for the June 2015 issue of Farming Matters should be sent to the editors before 1 March 2015. Email: info@farmingmatters.org. More information.